The Brownstone EC at Canberra Drive that will set a new standard of Luxurious Executive Condo Living.
It's NEXT to Upcoming NS12, Canberra MRT station.
The Brownstone EC Sales Gallery
at Canberra Road
Next to Sembawang MRT station, Open daily for Walk-in Booking.

The Only New EC right next to the Upcoming Canberra MRT, The Brownstone EC is a Luxurious Executive Condominium Jointly Developed by CDL and TID Pte Ltd.
Ongoing Changes Around The Brownstone EC
The Brownstone EC is a Value Buy for Home NEXT To MRT Station.
2 Bedroom from S$596K*
3 Bedroom from S$706K*
4 Bedroom from S$835K*
*Subjected to availability and changes with prior notice.
What is 'Extraordinary'?
It is a residence by a trusted developer with 52 years' experience.
It is a home next to the MRT, set amidst expansive lush greenery and lavish pools.
It is THE BROWNSTONE Luxury Executive Condominium.
For Enquiries on Brownstone EC: Call

96201223
Eligibility Conditions to purchase

The Brownstone EC
Main Applicant must be a Singapore Citizen and above 21 years old, Co-applicant can be a Singapore Citizen or Singapore Permanent Resident.

Both Applicants  must be either 1st Timer or 2nd Timer (Existing owners or Ex-owners of HDB flat.)

Applicants must form a valid family nucleus to buy the EC under one of the HDB's eligibility schemes: Public, Fiancé/Fiancée, Orphan or Joint Singles(Min:35years old).

Applicants' combined gross monthly household income must not exceed $12,000.

Applicants or Occupier listed in the application must not owned or disposed of any private property within thirty (30) months from the date of application.
Eligibility to purchase an Executive Condominium, find out here.
Are you eligible to apply? find out here.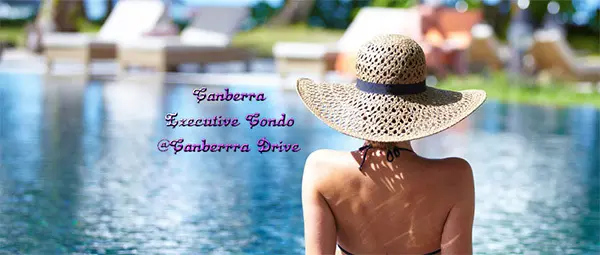 A New Standard of Luxurious
Executive Condominium Living
by City Developments Limited (CDL)
Preview at Canberra Road, Next to Sembawang MRT
Mr Chia Ngiang Hong, CDL's Group general Manager, said: "The Brownstone has an excellent location just next to the future Canberra MRT station. The north of Singapore is poised for a new burst of life… There are plans to build an integrated wildlife park in Mandai and transform Woodlands into a buzzing commercial hub. Adding to the EC's outstanding connectivity are the upcoming Yishun transport hub, North-South expressway and a proposed Rapid Transit System connecting Woodlands to Johor Bahru. Given the development's strong locational attributes, we expect keen interest for The Brownstone."
Near THE BROWNSTONE EC
Canberra MRT station -ready in 2019: LTA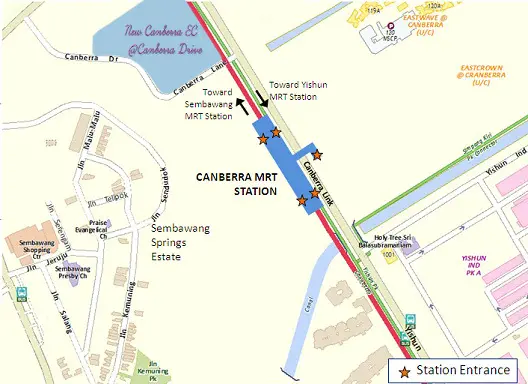 On 1st August 2014, LTA announced that works on Canberra MRT station (NS 12) will commence in Mid-2015 and the elevated MRT station along the North South Line is expected to complete in 2019.
The Brownstone EC

is sited next to it.
Yishun Town -Undergoing Massive Transformation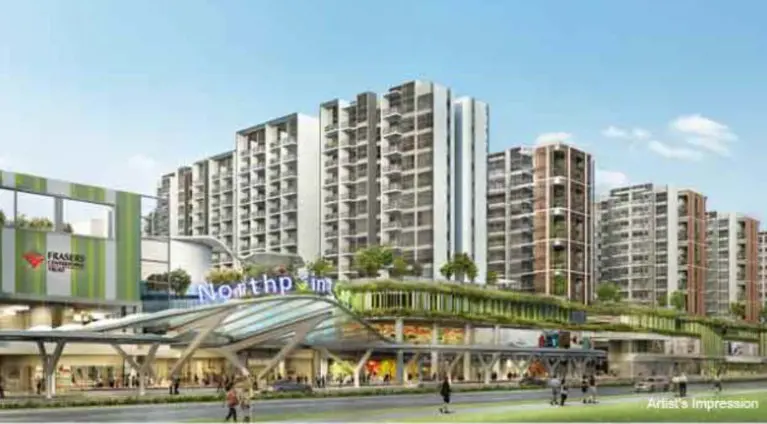 Brownstone EC's residents are one MRT station away from the Yishun MRT and Bus Interchange where the First Integrated Development with residences, shopping mall, mrt and bus interchange, community club and town plaza is in progress.
Regional Centres

Woodlands Regional Centre is 3 MRT stations away from Canberra EC. Woodlands Regional Centre is the 4th regional centre after Tampines, Jurong Lake District and Paya Lebar Central.
The Brownstone EC

  Details

Developer: Canvey Developments Pte Ltd.

Project Name: The Brownstone 雅尚苑

Tenure: 99-years from 28th April 2014

Address: Canberra Drive

District: 27

Site Area: 28,562.5 sq m/ 307,447 sq ft

No. of Units: 638 units of 2-/3-/4-/5-bedroom residential unit

Expected Top: 28th January 2019

No. of Car park lot: Multi-storey carpark Min 638 lots (surface carpark: 13; MSCP: 625)

Architect: ADDP Architect LLP

Payment Scheme: Progressive Payment or Deferred Payment
Educational Institutions near to The Brownstone EC
Sembawang Primary School
Sembawang Secondary School
Chongfu Primary School
Xishan Primary School
Wellington Primary School
Canberra Primary School
Ahmad Ibrahim Primary School
Ahmad Ibrahim Secondary School
Yishun Junior College
Anderson Junior College
E-Application
E-Application is a no cost, no penalty to you but a necessary process for buying an Executive Condominium (EC) like The Brownstone EC in Singapore. It gives you a ballot Q to select and book your choice unit. Also, you will the first to preview the show flats when they are ready for viewing. 


The Brownstone EC has 2-/3-/4-/5- bedroom units to suit your needs and it is brought to you by renowned developers, CDL (City Developments Limited) and TID Residential, a subsidiary of Hong Leong Holdings Pte Ltd.
Brownstone EC is expected to obtain TOP on 28th January 2019
Those who have previously bought a flat from the HDB or taken a CPF Housing Grant will have to pay a resale levy when they next buy Brownstone EC.

Why? THE BROWNSTONE EC
Location: Quiet, Idyllic and yet easily connected to everywhere especially with a MRT station (UC) next door.

Lifestyle: Condo Living with comprehensive facilities like Sky Gym, Junior Skating Rink, numerous pools and verdant gardens.

Upside potential on your investment: The restriction is partially lifted after 5years MOP and completely lifted after 10years from vacant possession date.

Selection  2-bedroom to 5-bedroom units, fitted with premium appliances and fittings from Mitsubishi, Whirlpool and Hansgrohe.

First developer in Asia to adopt large-scale prefab construction technology for enhanced quality finishes.

Up to $30K CPF Housing Grant for 1st Time Buyer*, Deferred Payment Scheme available.
The Brownstone EC Unit Mix
| | | | |
| --- | --- | --- | --- |
| TYPE | Description | Floor Area (sqft) | No. of Units |
| A | 2 Bedroom | 730 – 850 | 42 |
| B | 3 Bedroom | 900 – 1090 | 282 |
| B5 | 3 Bedroom Premium | 980 – 1090 | 146 |
| C | 4 Bedroom | 1090 -1400 | 162 |
| D | 5 Bedroom | 1670 -1710 | 6 |
| | | Total | 638 |
Sky Deck with Sky Gym, BBQs, Junior Skating RinkOne of the many pools
The Brownstone EC Work-in-Progress
The Brownstone EC Site Plan
Most Units are North-South oriented. Many Units have the pools'and water features' view.
Some of the Amenities in this extraordinary EC
Brownstone EC Floor Plan
The Brownstone EC will set a new Standard of Luxurious Executive Condominium Living.
The Brownstone EC Sales Time-Line
E-Application Period : 10th July – 20th July 2015
Booking via Ballot: 25th July 2015
Show Suites Location
The Brownstone EC Sales Suites is off site, at Canberra Road, Next to Sembawang MRT station (NS13)